On July 4th, 1776 our founders adopted a declaration of independence that established a vision of hope and equality that endures to this day. America's strength and its prosperity are a testimony to the enduring power of the founders' ideals that liberty is the birthright of every individual and all people are created equal. America's creed remains so powerful today because the universal truths it represents are truly the real hope of all mankind.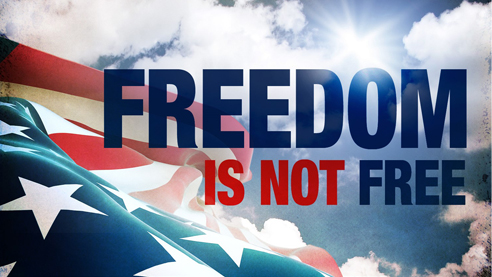 The secret to happiness is freedom, and the secret to freedom is courage – Thucydides
President Franklin Roosevelt spoke about four freedoms: the freedom of speech & expression; the freedom of worship; the freedom from want and the freedom from fear. I'm reminded on this day, those freedoms don't come without a cost… a personal cost, a regional cost, and a national cost.
History shows the path to liberty invariably involves conflict. Conflict doesn't always mean a war or a fight, it can be a regional or local challenge or your personal circumstances. So whatever your fighting and whether you are serving in politics as a local elected official, working in a  local food shelter, volunteering at a local school, walking the beat as a constable, firefighter or EMT or serving in our armed forces know that your acts of service uphold and extend the very best of freedom in America.
For my friends in real estate sales, we are blessed to serve so many families in buying, selling or investing in real estate. We each have the freedom of the same 24 hours. Are you investing those hours to be the best version of you? Are you serving your community at the highest level? Take a look at what my friend JP Piccinini wrote about the 7 S's of success… those same principles could be the 7 S's of freedom. The choice is yours.
#WinTheDay #ExceedingExpectations